Hello !
I was reading many posts in this forum about Internal Linking. I also read Jills article about site architecture. I am still a bit confused about this topic.
@Cunfusion #1:
Pages vs. Posts - especially when using WordPress - I am still not sure:  
When should I use Pages, and when should I use Posts ?
@Confusion #2:
are the Keywords. Reading many different posts, I should create a Landing Page with my MAIN-KEYWORD I want to rank for.
Around that MAIN-KEYWORD I do have other Keywords I want to rank for as well. These Keywords are related to the MAIN-KEYWORD - they just do have a much smaller search volume.
However, these Keywords with a much smaller search volume - should they have their own Pages or Posts ? And should link to the Page with the MAIN-KEYWORD ?

@Confusion #3:
are the Backlinks. If the correct site architecture is setup - where should the backlinks point to ?
I apologize in advance if my questions are not clear enough. I am not as good in writing. I am better with pictures and graphics. 
Soo...  below you can find a Mind-Map to show how I would currently setup a site structure -  based on the cookies.com example.
(I didn't have any better idea, but thought cookies might be good and simple choice - and yes, I can't deny it - I love eating them...  but yeah... lol; my belly grows - outsch.)
This graphic might be totally wrong. However, my goal is to layout an absolute correct site structure. With your help - I am pretty sure to make it right !
Okay, so here we go.. please see the graphic below: Link to image http://www.mediafire...6l4cpue4hfg.jpg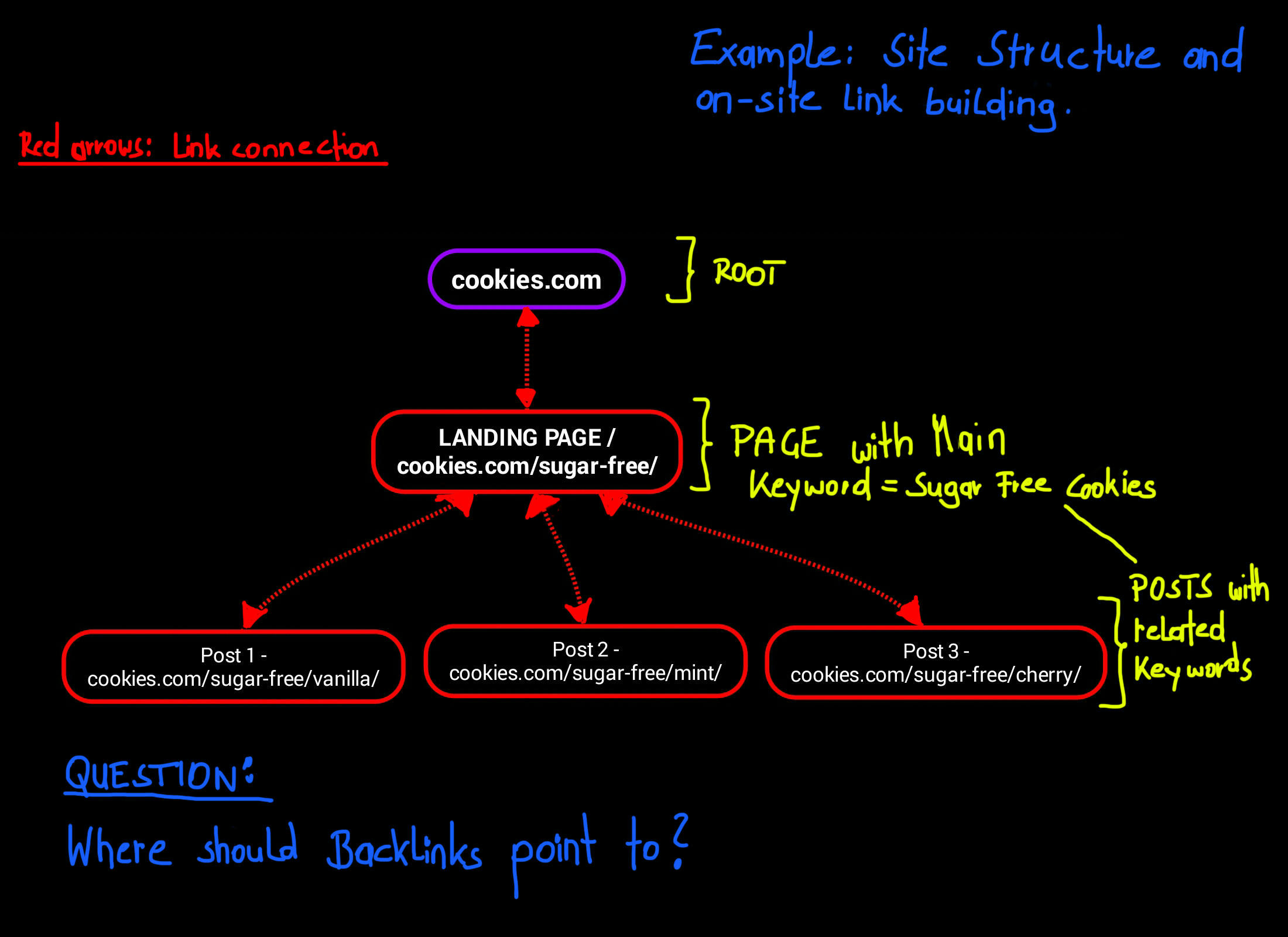 @GOAL:
My goal is to do it right. 


I hope the graphic will help everyone who is interested in Internal Site Structure - and yes, I am pretty sure I have to make many changes.
Okay, that's been said - now I am really curious about all your thoughts !
 
THANK YOU SO MUCH for every single hint, comment, recommendation and little help !
I really appreciate it !